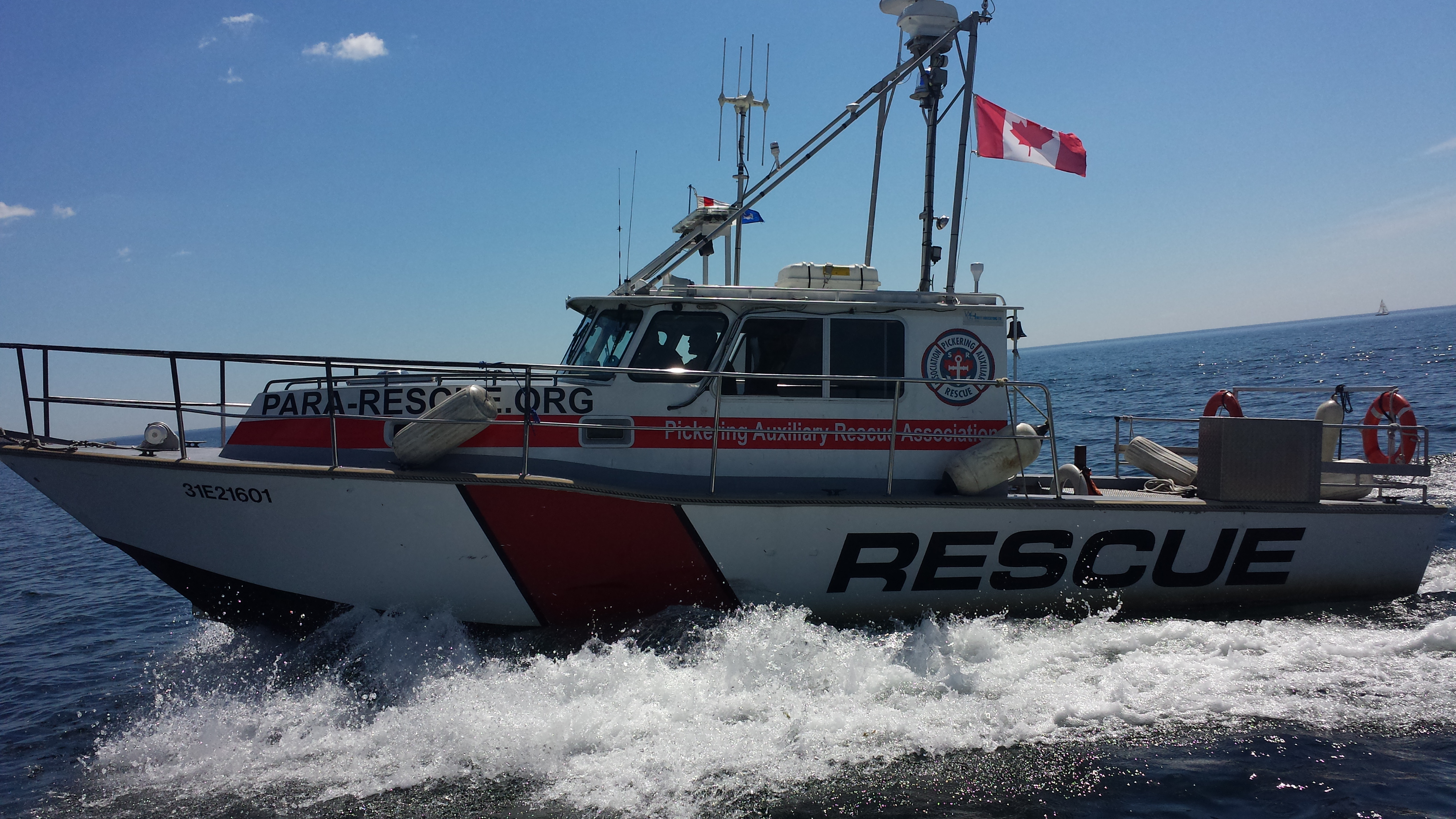 On Saturday August 26th, 2017, the Pickering Auxiliary Rescue Association will celebrate 50 years of supporting the local community. Our mandate is simple: the preservation of life on the water.
We are a registered charity operating a marine search and rescue service established to protect mariners and assist police, fire and ambulance services in emergency situations. But it doesn't stop there. Our members also participate in local events to promote water safety, boating education and community pride. Oh and did I mention all of our members are volunteers? Today we are fifty-strong and while the numbers have fluctuated over the years, there has never been any doubt in the commitment, passion and dedication of our membership. All of our members work hard to make PARA the beacon of SAR excellence it is today and – let's face it – 50 years is a chance to pat ourselves on the back. So on Saturday night we will bring together past and present members, local dignitaries, as well as our friends in the boating community to enjoy a night of remembrance, reflection and most importantly celebration.
But I get ahead of myself. We know who we are today, but like all organizations, there is a beginning, a spark, an idea that sets us on the course we find ourselves today. So before we begin to loosen the tie on Saturday night, let's take a look back at our journey over these 50 years.
For us the spark was a changing emergency services landscape. In the early 1960s the Pickering Township Police had responsibility for local marine search and rescue. By 1966, however, it became apparent that this was proving more challenging than had been anticipated. The police made the difficult decision and let local council know they would no longer be able to support marine search and rescue. Response to this potential service gap was swift. A group of volunteers, including local boaters, members of the Frenchman's Bay Canadian Power Squadron, and Pickering Township Police chief Reg Parker, got together to discuss how to ensure marine search and rescue services continued under a new structure.
In April 1967, guided by our three founding Directors, Tony Buckley, Jim Dike and John Hanbridge, the Pickering Emergency Rescue Unit (PERU) held its first meeting. With Keith Warner as its first Chairman, later to become Commodore once we formally adopted the title the unit was ready to "launch". Of course a marine SAR association is nothing without a vessel and the funds to keep her afloat. This challenge was quickly overcome when the Town of Pickering generously purchased a used 25-foot Chris Craft and provided the ongoing funds to keep her afloat. With our new vessel, appropriately christened PERU, ready to launch, our initial volunteers took their first tentative steps into the exciting world of marine search and rescue.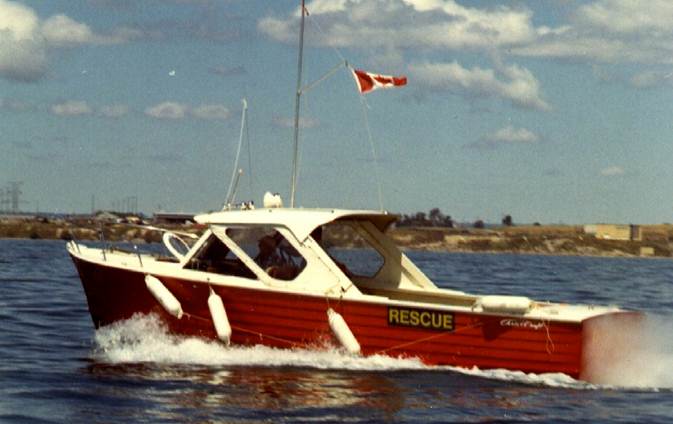 On January 1st, 1974 the Regional Municipality of Durham was created, and the resulting police services changes rippled down to PERU. Services which had previously been delivered by each township were now merged into a regional police service. As a result, our local police services partnership expanded beyond Pickering to include the Town of Ajax.
This was also a year we changed our name for the first, but not the last, time. While Pickering had been funding PERU from its inception in 1967, this was the year that the Town of Ajax joined Pickering in providing the funding to keep PERU on the water. To recognize this generous contribution, the association decided to change its name from PERU to the Pickering Ajax Rescue Unit or PARU.
Now we all age. It's inevitable, and the same is true for vessels. While PERU had served us well since 1966, her age and really her limited functionality as a rescue vessel was beginning to show. It was time to find a replacement. But first things first – find funding. Again, our local municipal councils stepped up to the plate, as both Pickering and Ajax agreed to purchase a new rescue cutter. After looking around to find the right one, at the right price, the association settled on a 32 foot fiberglass hull Fibreform whom we christened PARU.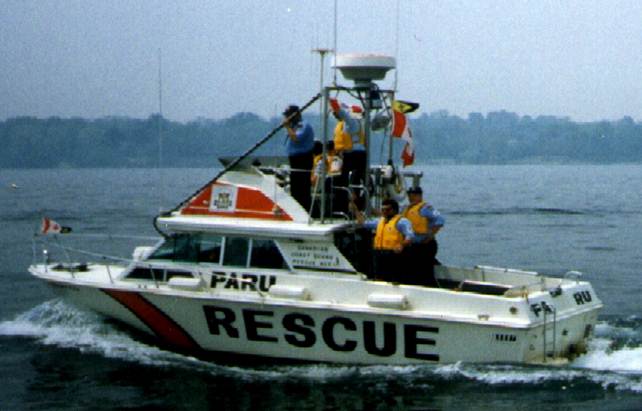 Of course we love the stretch of shoreline we call home. A walk along Pickering's beaches or cycling the cliffs of Ajax's waterfront trail are just two of the many reasons we have chosen this area as our home. But we all know that Durham Region is just one slice out of a much bigger pie. Lake Ontario, on the Canadian side, stretches from the beauty of Niagara on the Lake to the majesty of the Limestone City. You can imagine that over 450 kilometers of coastline creates a significant challenge to search and rescue services. While the skilled professionals of the Canadian Coast Guard and 424 Squadron based at CFB Trenton do all they can to assist boaters, limited resource availability means they can always use a helping hand. Historically this help would have come from a PARU, or the other two volunteer rescue units dotted along the lake in Oshawa (City of Oshawa Marine Rescue Auxiliary – COMRA) and Oakville (Town of Oakville Water Air Rescue Force – TOWARF). Each unit of volunteers was strong individually, but there is always strength in numbers. With the goal of more consistent training for members and better coordination during rescue efforts, the idea for a joint partnership between these units was put on the table. On April 1st, 1978, PARU along with TOWARF and COMRA joined the newly-formed Canadian Marine Rescue Auxiliary (CMRA), with PARU's own Captain John Hanbridge, a PARU Searchmaster, as its founding president. The CMRA would later become the Canadian Coast Guard Auxiliary (CCGA), but this would not happen until 1997.
The late 1980s and early 1990s brought a few new changes to our unit. In 1987 due to some changes related to our funding our name was changed for a third time to the Pickering Auxiliary Rescue Unit or PARU. In 1990 we moved from the east side of Frenchman's Bay to our present home at Frenchman's Bay Yacht Club. But our biggest change was to come in 1993.
Nineteen years after our second vessel PARU entered service, she finally succumbed to the rigorous wear and tear of a search and rescue vessel. After all, we do most of our work on the harshest nights in the roughest conditions when most vessels are safely tied up at the dock. With her hull aging and in need of costly repairs, she was decommissioned. For the first time the association was without a boat. It is not easy to find a vessel that has the right personality for search and rescue. She has to be functional, she has to be flexible, she has to be reliable, and of course – we are after all a charity – she has to be inexpensive. These types of vessels don't just land in your lap; it takes time to research and find the right fit. The boating season, however, does not wait. Like clockwork as the spring rains arrive, boaters begin to unfurl their sails and launch their vessels. Time was something we did not have, but we were able to find a solution. As a result of our partnership with the Canadian Coast Guard, we were able to borrow a rigid hull inflatable (RHIB) from the CCG Inshore Rescue Boat program. While not ideal for the conditions out on Lake Ontario, it did gave us time to do a thorough search for our replacement vessel while still meeting our mandate. So in 1993 and 1994, the local boaters, used to seeing PARU's fly bridge slicing through the waves, would have done a double-take when summer arrived and they saw our crews bouncing along the waves in a RHIB.
In 1995, we finally found the vessel we were looking for. A workboat, originally built in 1992 and extended in 1993 by Henley Manufacturing for service as a dive boat, became available. Once its purchase was complete and she was equipped for her new search and rescue role, we were ready. She too was christened PARU, and she has served and continues to serve us well for over 22 years and counting.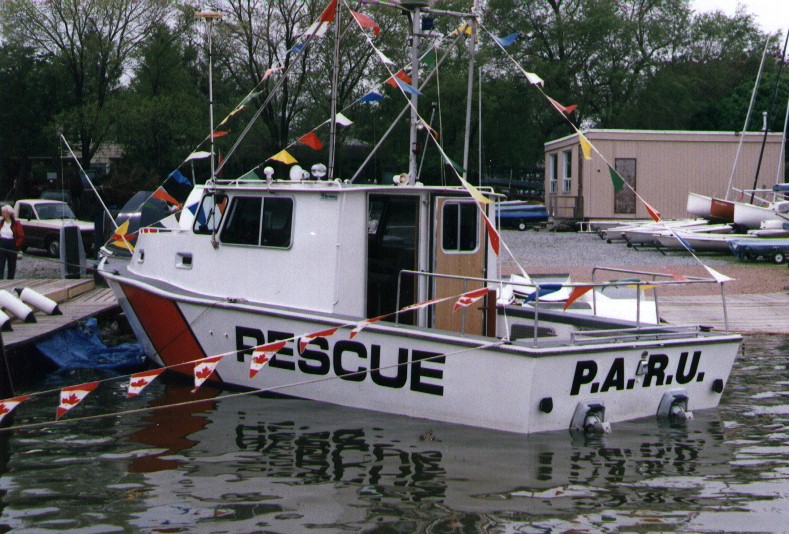 PARU has definitely been there for us and by extension those in need, and for that we are so grateful. Our crews go out no matter the conditions, and yet we do so having full confidence in the vessel beneath our feet. That first step on PARU at the beginning of a patrol is, at least for me, in an odd sort of way, spiritual. We trust her to take us where we need to be, to help those who need us most. One September night in 2003, this trust was tested like no other. PARU was called out to help a person in the water, and given the conditions we needed to get there as soon as possible. At the time, the Frenchman's Bay channel was not the "runway" we know today, and to be honest the crew just needed to get there as quickly as possible. Despite sustaining significant damage to PARU on exiting Frenchman's Bay, a successful rescue of the person in the water was accomplished. However, the damage PARU sustained carried a significant price tag.
When we look back, however, this was just one of the many roadblocks we have faced over our first 50 years. Funding has always been a challenge, and there have been many supporters: Pickering, Ajax, and today Durham Region. We still continue to rely on other sources of funding to help us keep PARU afloat and take our organization to the next level. We have had many wonderful partners including OPG, Veridian Connections, Ontario Trillium Foundation, and Firehouse Subs, not to mention the many individual donors who help keep us out on the water. As with all charities, this is something we will always struggle with, but at the end of the day, that's ok. It gives us the freedom to approach challenges in the way we are comfortable with, and not in a way driven by an external mandate. It's what allows us to be us.
As we approach our 50th anniversary event next Saturday, we look back at who we are and where we came from. For me, well the answer seems simple. While we have changed our name a few times, including our most recent change in 1997 to Pickering Auxiliary Rescue Association (PARA), the core principles remain the same. Our mandate is the preservation of life on the water. For our membership, this is the reason we happily head down to our slip at FBYC. Yet if we take a step back, PARA is so much more than that now. As we continue to spread our wings, it's in these new areas where our future opportunities lie. We will always be there for the person in the water. It's who we are. But to take the next step, we need to be so much more. PARA isn't just about marine search and rescue; it's about our local community, and what we do to make that community a better place to live. Today this means planting trees, teaching boating safety to local yacht clubs, hosting cadet groups and collaborating with other local emergency services. It's this new expanded mandate which will empower PARA to be successful over the next 50 year.
Yes we have had a colourful history and really this just scratches the surface. Our real history, if you ask me, is about the over 3,100 men, women and children we have gone out to bring home safely to shore. It's about the more than 750 volunteers who have dedicated their own time to train, patrol and assist over 270 people in life threatening situations. So I end with a heartfelt thank you to all of our past and present members, you have made us who we are. We are successful because you have committed your own time to make it so.