Miles Thompson – Thanks!!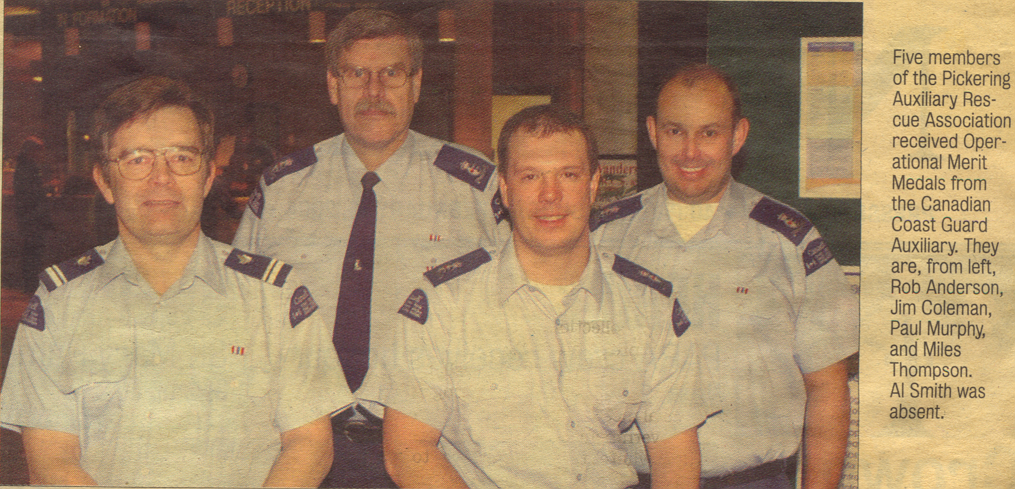 By their very definition, a volunteer organization is dependent on the kindness and commitment of both its supporters and, more importantly its members. And in these organizations, all those who grace the ranks with a commitment of their precious time are appreciated. Yet for all those many volunteers over the years, there are those members who pass through with barely a notice. Perhaps its not the fit they were looking for or perhaps not the right moment in their lives to meet the inevitable obligations. This isn't an indictment of those passing through, not at all, it's more an acknowledgement that for them the right life piece just didn't quite fit together and they had to pull back. For others their membership may be long and usually quite successful, influential even, and yet don't seem to make that magical mark which sets it apart. These members are both remembered and honoured and yet to the general membership their memory is one of warm but simple appreciation for their time and commitment to the organization.
And then there are those members whose presence can be felt long after their physical commitment to the organization has faded into memory. Its those individuals whose very spirit seems to permeate the room, a gentle reminder of the wisdom and experience they had once brought to the table. In any organization these individuals are few and far between. Many can go years, even generations, without on of these "diamonds" stepping through the membership doorway.
PARA has had its own wise old owls whose past experiences and wisdom continues to seep through the collective decision-making approach of our current leadership. The individual we honour here is one of those special folks.
As a member, his passion for helping others was unquestionable. Above and beyond his regular patrols, he was always one to raise his hand for those extra duties. With his ever-present smile he arrived ready to roll up his sleeves and get the job done. On board was no different. A systematic and logical approach to any situation, he strived to be a leveling presence whether on regular patrol or in a more difficult tasking situation.
As a coxswain, he was more than just the "man in charge", the captain. He was an educator, an advisor, a counselor and yes, of course, a leader. As a member of his crew, you felt welcome with that very first step on the deck, regardless of your experience. He brought a level of calmness and support to each member in every situation. It was this overarching quiet leadership that helped forge those invisible bonds of friendship, vital on a dark choppy cold night in late September as you look for that "needle in a haystack". On your first patrol he wrapped his proverbial arm around you in an encouraging and warm embrace, willing you to push yourself beyond those self-imposed mental barriers we all put out. And for the veterans, well in many ways that was his speciality. His trust and confidence in them was clear to all as he instinctively knew and then demonstrated how to work with each one in a way that suited their own strengths and weaknesses.
As an administrator, his knowledge and experiences were invaluable. A leader in multiple volunteer organizations, he never shied away from the "heavy" lifting necessary to keep the wheels turning. The work, often taken for granted by others, he tackled with a heads down positive energy which is always infectious. Leading from the front was always his style and with his friendly smile and gregarious approach he would naturally draw others in to help him move the needle of change ever forward. Like a protective father figure in many ways, it was his comforting approach which, despite the absence of pressure to do so, drove you to demonstrate to him that your commitment was just as strong. But his skills here went well above being a pair of boots on the ground. His past experiences brought a real sense of awareness and insight into our decision-making. Always one to ask the tough penetrating question almost as if willing is to push our own thoughts well out side the "box". It sometimes seemed as if he knew the answer he wanted us to give but allowed us the time to "catch up" and work through the various permutations until we had our own lightbulb moment. It was then he would congratulate us on a smart decision; looking back we should, and are, thanking him for bringing us along at our pace and allowing us the time to work through logic he had traversed hours and even days before.
As a person, well this is the real measure we use and for him it was clear to all of us that he was a man of integrity and a man of compassion. His love for his family and friends beamed from every pore. A probing question about his son would often lead to delightful insight into this young man's journey into the everyday challenges of growing up in a modern world. Of course, this is not to say he was overbearing in his telling of tales, no not at all. Each inquiry would be immediately followed by an inquisitive probe into your own family's situation. It was this passion for the individual that really shaped one's understanding of the man. It wasn't always about the uniform or the unit, it was about the member. It was your life, your moments and your memories that he wanted to know about, it was those he wanted to share with you.
It was the man and not the member who after experiencing some personal challenges could be found strolling around the local neighbourhood on his own personal road of recovery. And it was this man who would always greet you with his familiar grin and perhaps, if you were lucky, a simple little jest that would always make one smile, perhaps far too long after the moment had passed, then longing for, but never achieving, that equally witty response. But this familiarity did not restrict itself to those ensconced within the PARA family. No, it was equally distributed to all who met this determined man on his long walks around our beautiful bay.
Yes, Miles Thompson was a member, a coxswain, an administrator and a man who has, and will continue for years to come, elevate PARA to unprecedented levels of confidence and membership strength and it is these internally focused skills that has allowed PARA to continue our own organizational journey. There is no doubt that Miles has had an impact, one that will be felt for years to come. But as is often the case, despite the many years of exemplary service, it is often one moment in time that raises one to unprecedented heights. For Miles, there is one of those moments and it happened on September 26, 2003. It was one of those nights we all think of when we join. Not a moment we necessarily look forward too, but one we prepare for…
As SAR volunteers around the world will tell you, there are those special moments when training and preparation give way to personal instinct and natural energy. These situations are not for the faint of heart and it is in these moments one either excels or reaches boundaries they might never cross. On a lumpy night back in 2003 a volunteer crew, led by Miles Thompson, hit one of these moments. A rough night, an unforgiving lake and a call for help from three fishermen struggling right outside Frenchman's Bay was all the impetuous these volunteers needed to respond. What might have started as a regular tasking, however, turned immediately ugly as the resulting high winds and rough seas turned an already difficult channel into an unforgiving obstacle. The inevitable happened when these forces combined to create unnatural conditions resulting in PARU's bottoming out as she struggled through the channel. Despite the damage, however, the crew to a man agreed to push forward and continue the rescue. While one man had found the shore, and another was safely brought on board, a third was sadly lost at sea. It was a difficult night for all. It was one of those nights, as you can imagine, whose true impact was not felt until the inevitable adrenaline drained off and one was left with simple exhaustion. On that night, in spite of a heavily damaged vessel, it was Miles' exemplary leadership coupled with the individual talents of his crew that ensured they were able to bring home one man who might otherwise not made it safely to shore. A rescue, we might add, that was recognized for all involved by the Canadian Coast Guard Auxiliary's Operational Medal of Merit. But it is not that night alone were we see Miles' shine. It is in his actions after this event to which we are forever in his debt.
If one mentioned PTSD back in 2003 you might have had some sense of what they were talking about, but then would have likely passed it off as a unique "military" phenomena. Today, of course, we know so much more about the impact events, no matter the circumstances, can have on us but in those days, it was a little different. We could therefore forgive Miles for simply moving on after the event as if it was a regular every day occurrence. After all isn't it what we all trained for? Mile's, as always, knew better. A man seemingly always a step ahead when it comes to mental health, personally made sure his crew was processing that night safely. Sure, he could have checked on them the next day then moved on, but Miles knew this wasn't enough. He checked on his crew not just the next day but continued to do so for the days, weeks and months that followed. He knew the impact that night could have had, and it was something he felt he had to help his crew tackle in a careful and tactical manner.
A few words ago you might have wondered why we have chosen to honour a man like Miles. We hope, however, that these words have helped paint the picture of a truly special individual, one whose debt we are forever under. He was many things to many people but to all of us it was that night back in 2003 and his subsequent reaction that define the man we both thank and say good-bye too. We know, of course, he will stop by on his way through Pickering to say "Hi" and it is of course those moments we will cherish. But we also know that his regular presence around FBYC is now likely thing of the past and for that we "mourn". We know, of course, no matter where he might be physically, Miles is on always our shoulders dispersing sage advice, encouraging us to ask the difficult questions and challenging us to be the best us we can.
Thank you Miles, we are forever in your debt.